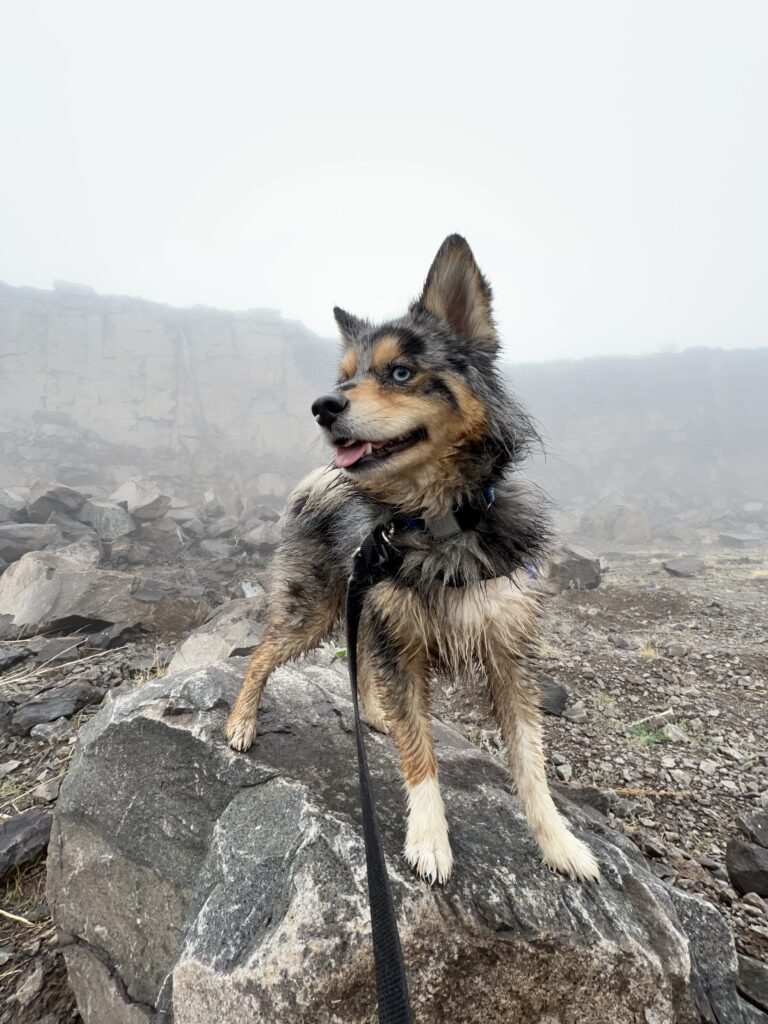 Greetings to all dog owners and adventure seekers!
We all know that weather can be unpredictable, especially when you and your four-legged friend are itching to hit the hiking trails. It's common knowledge that dogs love to explore, and sometimes, not even the rain can dampen their spirit of adventure. So, should a little downpour stop your fun-loving pup from experiencing the great outdoors? Absolutely not! Follow along to learn how to hike with dogs in the rain!
This is where our expert guide for hiking in the rain with dogs comes in handy. With the right knowledge and gear, hiking in the rain can transform from a potential problem into a refreshing experience. Hiking with your dog regularly provides so many mental and physical benefits, so it's good to get them out and moving, regardless of the weather! Keep reading for 8 helpful tips on hiking in the rain with dogs.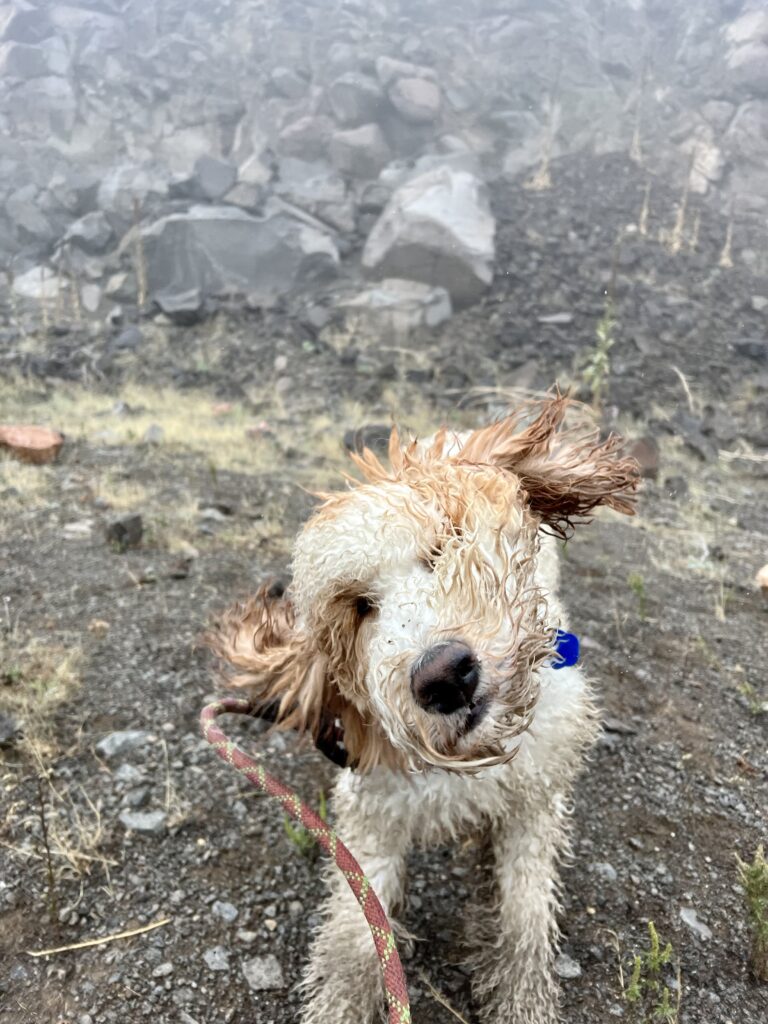 8 Essential Tips for Hiking in the Rain With Dogs
1. Dog Rain Gear: Essential for Wet Weather Hiking
Rain or shine, your furry friend's comfort is paramount. Much like their humans, dogs can benefit from wearing protective gear in the rain. A waterproof dog raincoat can keep your pooch dry during a downpour and help prevent them from getting cold. These are available in all sizes, catering to all dogs, from small breeds to larger ones. Additionally, remember to pack a towel for drying off your pup post-hike – a simple but essential dog hiking tip. Ruffwear has a lot of wonderful options for waterproof dog jackets, for both cold weather and all weather.
2. Protecting Your Dog's Paws: A Crucial Aspect of Rainy Day Hiking
Walking on wet and potentially muddy surfaces can be tough on your dog's paws. One way to provide protection is by using waterproof dog booties. These nifty accessories not only keep your dog's feet dry but also protect them from sharp objects hidden under the mud. Plus, who can resist the cuteness of a dog in boots? Ruffwear also has a wonderful option for dog rain boots.
3. Non-Slip Dog Leashes For Hiking: Safety First
Rain can make handling a leash quite tricky, as the surface can become slippery. This could potentially lead to your dog getting loose, which is the last thing you want during a rainy hike. Ensure you have a leash with a non-slip handle or grip for these wet outings.
4. Hiking Trails and Safety: Stay on the Path
Wet weather can make the ground slippery and trails more challenging to navigate. The safety of both you and your pet is crucial. Sticking to designated paths and avoiding steep or unstable terrain will help prevent slips and falls. Decide Outside has a very helpful article about mud on hiking trails, and when it's time to skip the hike. It's very important when hiking in the rain with dogs, to know when to say no to the adventure!
5. Hydration is Key: Don't Forget Your Dog Water Bottle
Despite the wet surroundings, your dog can still become dehydrated during a hike. Packing sufficient water for your furry friend is as essential during a rainy hike as it is on a sunny day. Hydration for dogs is a crucial aspect of pet health, so don't let the rain fool you. There are a lot of great options for carrying water for your dogs such as pet water bottles and silicone collapsible bowls.
6. Post-Hike Dog Care: Dry Your Dog Thoroughly
After a day of adventurous hiking in the rain, your pup will likely be wet and possibly muddy. Be sure to dry them off thoroughly to prevent them from getting chilly and to keep your home clean. Pay particular attention to drying underneath and between the toes.
7. Tick Prevention for Dogs: Wet Weather Warnings
Rain often brings out ticks and other parasites. Conduct a thorough tick check once you're back from your hike to ensure your dog hasn't picked up any unwanted guests during the adventure. Pet MD has a very helpful article for checking for ticks on dogs.
8. Embrace the Adventure: Enjoy Hiking with Dogs in the Rain
One of the most important tips for hiking with dogs in the rain? Have fun! Sure, it can be a little messy, but it's also a unique experience that you and your dog can enjoy together. Embrace the muddy paws and wet fur, and enjoy the refreshing feel of the rain. As long as you and your dog are happy, that is all that matters!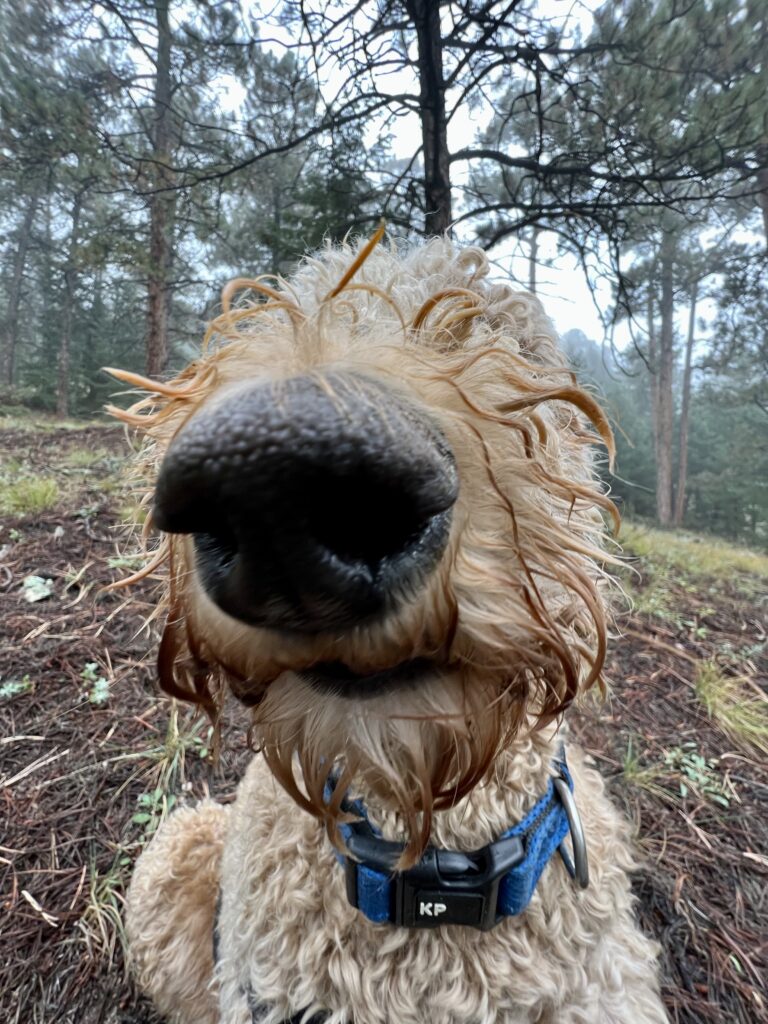 So, there you have it, adventurous pup-parents! We've armed you with all the essential tips for hiking with your dog in the rain. It's time to put on those rain boots, grab your waterproof gear, and hit the trails with your furry companion!
But remember, the best part of a rainy hike isn't just the hike itself – it's the shared experience with your loyal fur-friend. It's the joy you see in your dog's eyes as they romp through the wet grass. It's the mutual bond that deepens with every new adventure, rain or shine.
So, don't let a few raindrops deter you from creating these moments. After all, at Hike Doggie, we believe that hiking with dogs, regardless of the weather, is a beautiful way to enrich your bond and make lasting memories.
Just keep safety in mind and embrace the unique joys that a rainy day hike brings – the fresh smell of rain, the splashy puddles, and the sheer delight on your dog's face. You'll soon find that hiking with dogs in the rain isn't a challenge – it's an adventure!
Before we sign off, remember that preparation is key when hiking with dogs in wet weather. Always check the weather forecast before heading out and don't hesitate to postpone your hike if conditions become unsafe. Your fur baby's safety and well-being is the utmost priority.
Now that you're ready, it's time to get out there and make a splash on those hiking trails. Happy hiking, dog lovers!
We hope you found these hiking tips useful and feel better equipped to handle your next wet weather hiking adventure. Stay tuned into Dog Bloggie for more expert advice, dog-friendly hiking trails, and everything else you need for hiking with dogs.