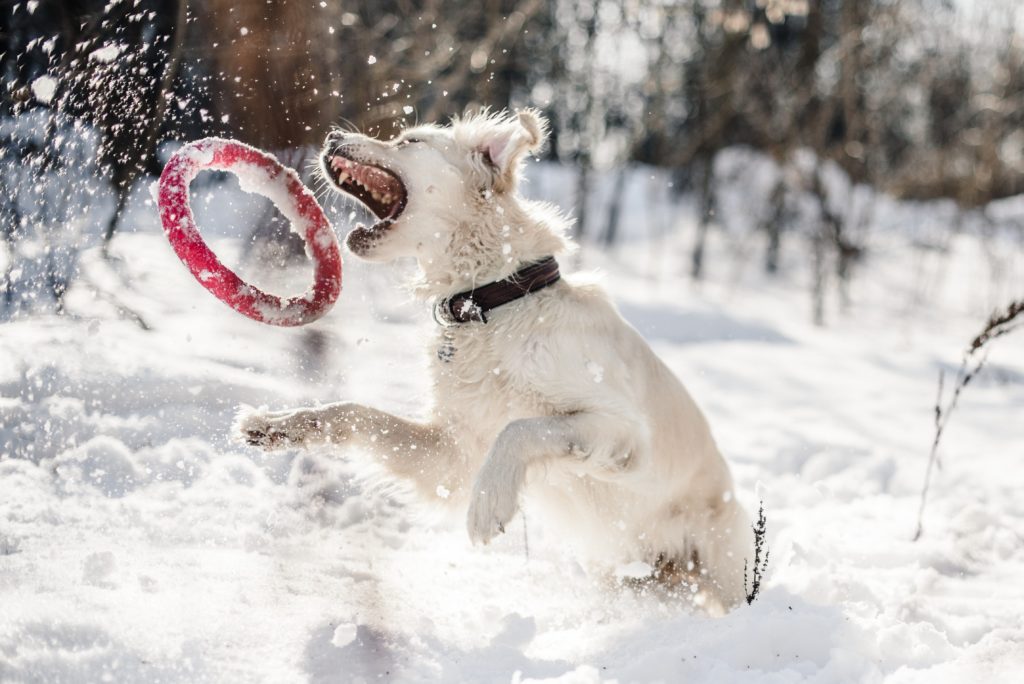 Brrrr… The chilly air, shorter days, and sweater weather can only mean one thing: winter is here!
You've pulled out your winter coats, turned up your thermostat, and stocked up on all your favorite hot drinks.
You are ready for the cold months ahead- but is your dog?
Does my dog get cold?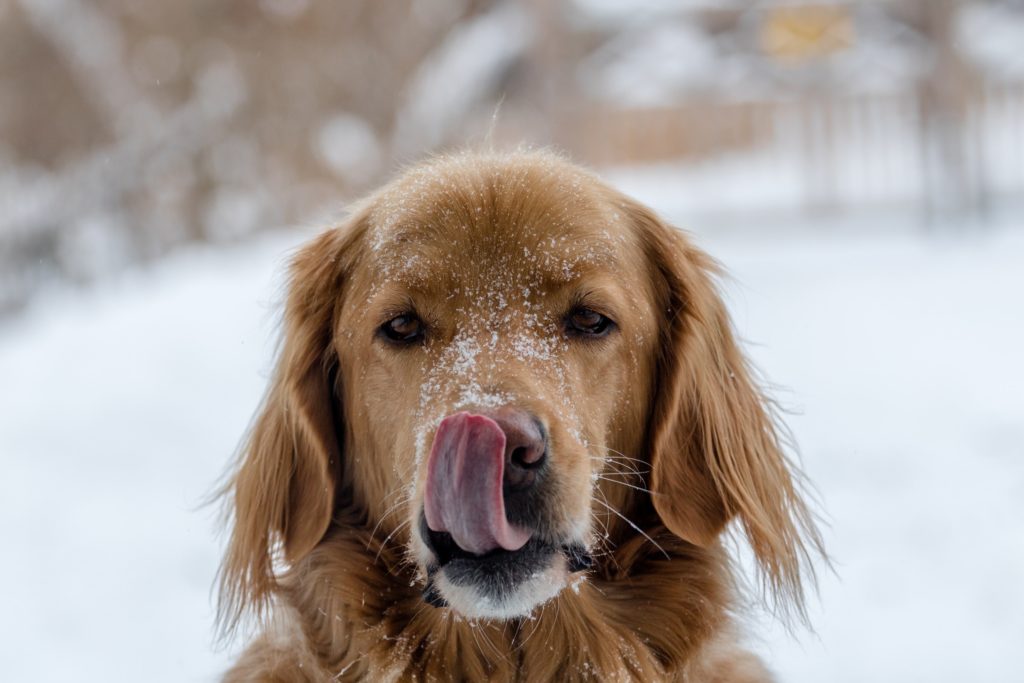 You might find yourself wondering if your pup actually gets cold. After all, they have a coat on all the time, right?
Dogs absolutely get cold, and can even get hypothermia or frostbite. Much like with people, your dog's tolerance of cold weather probably varies widely from other dogs'. Some factors that impact cold tolerance for dogs include size, age, height, breed, and even how humid the air is around them.
For pets, being cold is not only unpleasant, but can also cause long-term health problems. Chances are, your furry friend is pretty far removed from its more rugged ancestors, meaning they need your help to stay cozy, safe and happy this winter season!
How can I tell if my dog is cold?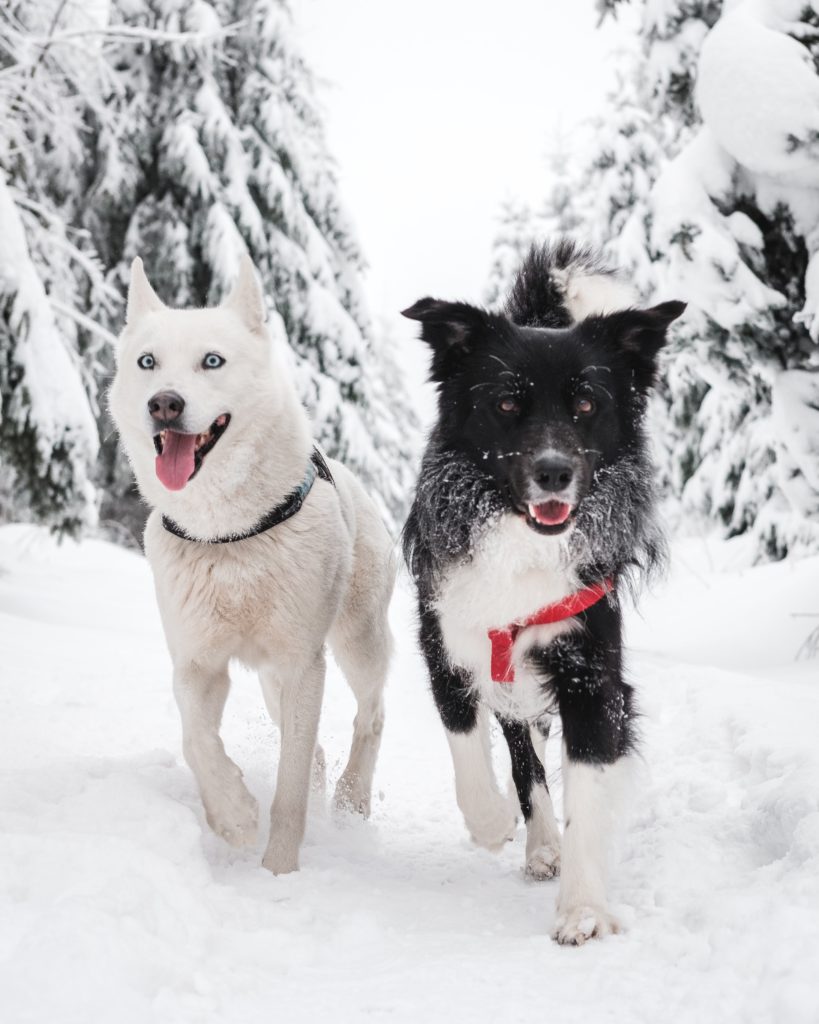 Your dog might be trying to tell you that they are cold, so picking up on the signs is important to help them out.
When you go out for a walk, notice if your dog is picking up its feet and holding them up. If so, this is a sign that your dog's paws are getting cold.
Is your dog suddenly acting reluctant about going out? If so, they might be getting cold on their winter outings.
Other common signs that your dog will show when cold are shivering, hunching shoulders and whining. If you start to notice these "tell-tail" signs, its wisest to get your dog inside and snuggled up!
Luckily, there are plenty of ways to help even the most cold-natured dogs get out and enjoy the winter.
Here are four "hot" tips from our doggie experts to help your pup stay warm all winter long!
Tip #1: Make their space extra cozy.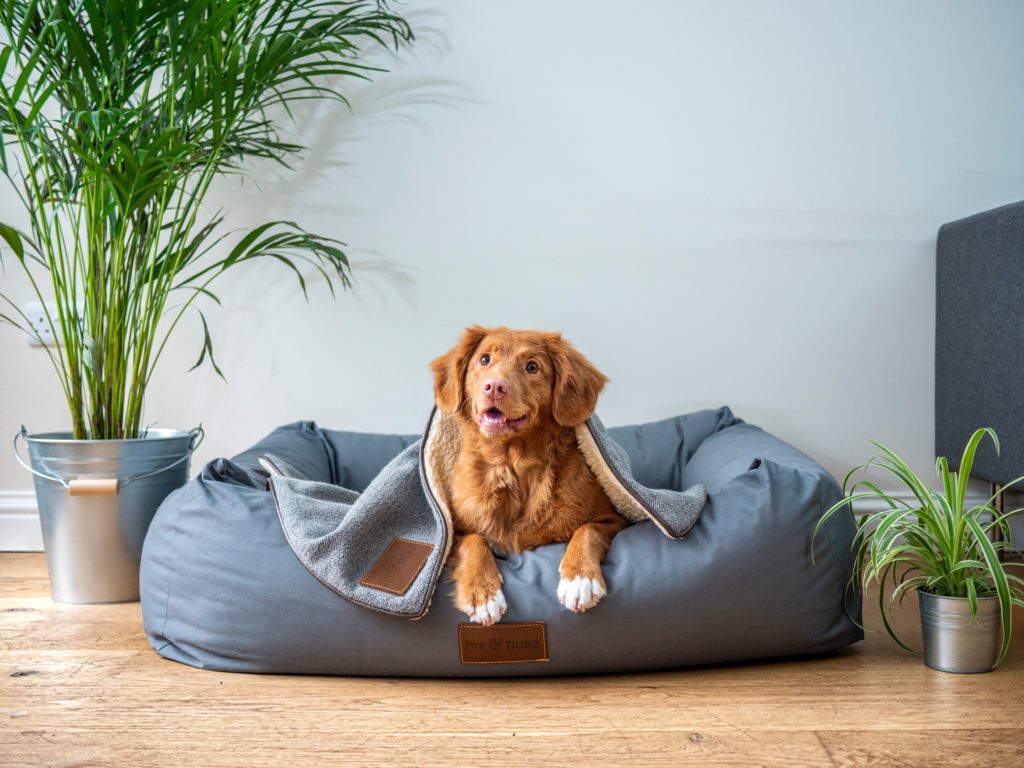 Think through where your dog likes to be in your home. If they have a bed, blanket or crate, make sure it is in a warm room or reasonably close to a heater. Try to keep their space away from exterior doorways or drafty spots.
You probably add an extra cover or two on your bed, so why not do the same for your pup?
Invest in a cave-style doggie bed that helps your dog feel calm, warm and secure, while looking adorable snoozing away! Created with dog's desire to den in mind, these beds provide added warmth in cold months while giving pups the safe, snuggly space they crave.
For furry friends who prefer to be by your side non-stop, try a pet blanket to insulate them and protect your furniture from any melting snow between their precious paw beans. Toss it on the couch next to you, on the floor by your favorite chair, or even on your bed without stress.
Tip #2: Get them a practical (even stylish) coat.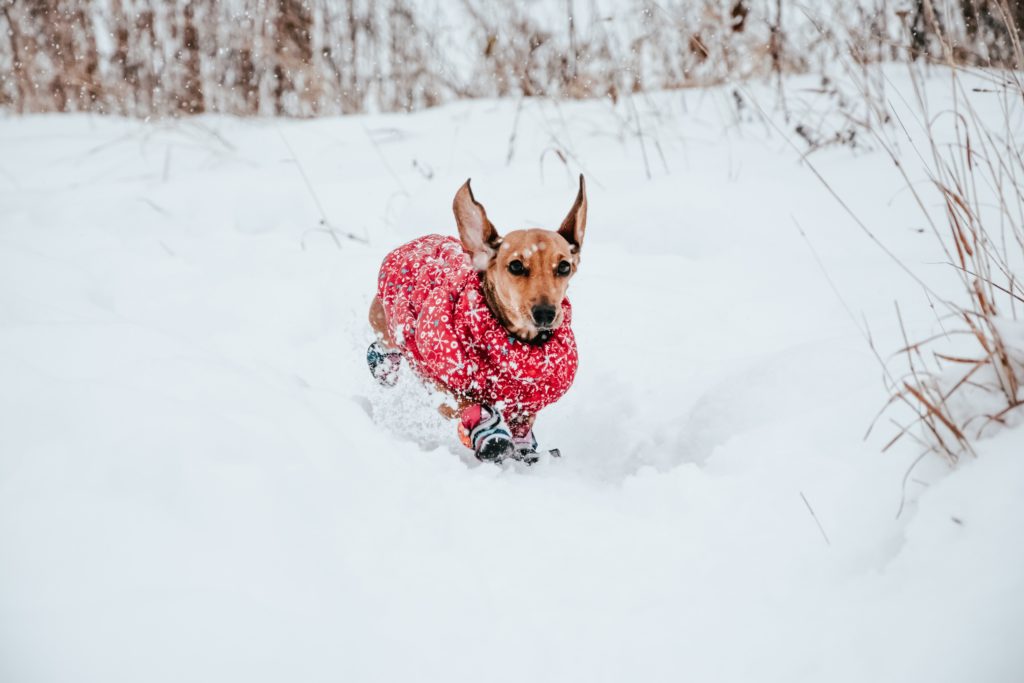 There are plenty of dog coats out there, for every size and season. While not all dogs will benefit from wearing a coat, especially larger dogs with long double-coats, many pups will feel happier and warmer outside with one.
If your dog is a short haired breed, is a miniature or toy, is low to the ground or is either a puppy or a senior, then a winter coat could be an excellent choice for them!
Lastly, think through typical winter temperatures and how long your dog is out in the cold. The more energy they burn outside, the easier it will be to snuggle up comfortably inside!
With these considerations in mind, check out this awesome winter coat that won best dog coat from The New York Times' Wirecutter. Waterproof, insulated and reflective, this coat is a great choice if you live in Denver like us, or anywhere else with an especially chilly winter. Even better, it comes in two high-visibility colors and a wide range of sizes! If you're extra-curious to read through the in-depth test and review, you can check it out here.
For a more fashionable dog jacket that still performs in wet and cold conditions, look no further than RuffWear's Powder Hound. Beautiful colors, plenty of sizes, and tiny sleeves make this one worthy of your favorite pooch.
Tip #3: Take care of their paws.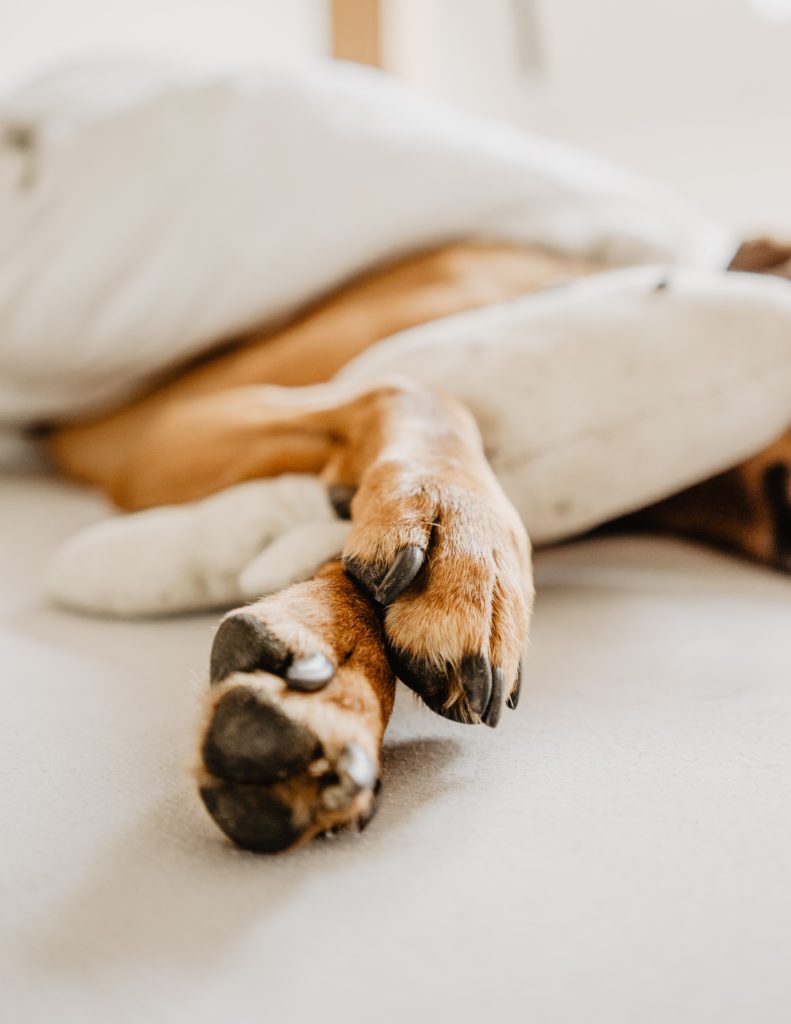 Icy sidewalks, cold rocks, and packed snow can all take a toll on a dog's paw pads, causing dryness, cracking, and discomfort. Small balls of snow can also get wedged between them, causing pain and potential injury.
So, how can you protect your doggie from getting cold feet? Two easy options make winter walking painless and fun.
First, rub some Musher's Secret paw wax on their paws. Created for sled dogs, this thick but breathable wax will both protect and hydrate paws through the winter.
Another option to help your dog in the cold is dog boots. For most walks and quick adventures, these simple and practical paw boots take the cake for durability, functionality and price.
On the other hand, dogs who take on rugged trails through the winter might benefit from paw boots with a little more tread. Enter these dog hiking boots from Ruffwear, complete with Vibram soles to make any adventure dog feel confident on even icy mountain trails. Beware, though, of the odd fact that they are sold in packs of two at a time.
Tip #4: Keep them active.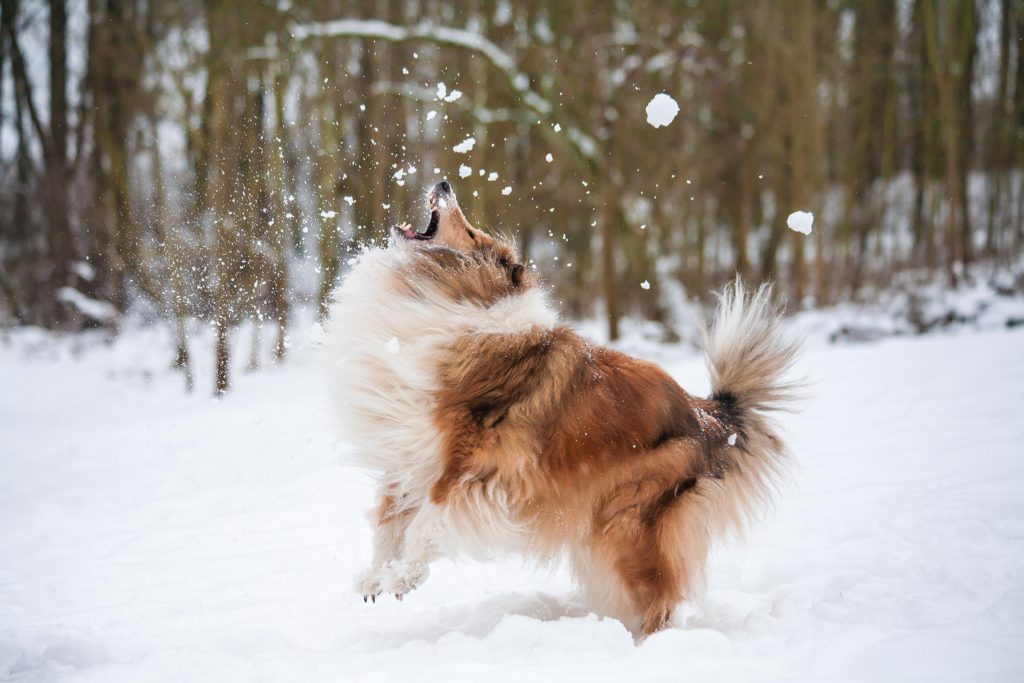 With a cozy indoor space and the gear they need to take on the great outdoors, your pup is set for a great winter! When the temperatures get cold, don't forget that they still need regular activity.
Take your dog out for walks or play sessions when the weather allows, and keep some toys around your home that engage them both physically and mentally. Our favorite pup puzzle toys come from KONG, in all sizes and toughness levels to fit your dog's chewing power. With some hard-to-get treats tucked inside, these toys offer hours of concentration and fun!
We know that it can be difficult to get outside during the coldest season, especially when your schedule is full and the days are short. Do your best and you'll likely find benefits not only for your dog, but also for yourself!
Lastly, if you live in the Denver area, check into sending your sweet pup on a hiking excursion with Hike Doggie! Your dog can still burn off energy, stay fit, socialize with other dogs and get spoiled, even when you have to work and the weather looks dreary. Our trained hikers keep pups safe and happy, and make it easy for you to be the best dog parent ever!
Conclusion
We hope this article was helpful for you and your dog.
We want to help you be the perfect owner that your dog thinks you are.
How do you keep your dog toasty warm all winter long?
Let us know in the comments below!